This post may contain affiliate links, which means I get a small percentage of the sale at no extra cost to you. I only recommend items I love and have had a positive experience with. Thank you!
Want to see the popular zip up bedding in action? Check out these 20 beautiful real life bedrooms with Beddy's Bedding!
It all started when I asked my Instagram friends for their advice on RV Bedding for bunks.
If only I had a dime for every Beddy's bedding recommendation . . .
We absolutely loved our Beddy's Bedding for our RV Bunks, and you can go over to that post to read all about how we made them work for these smaller RV bunk beds.
I am now looking to get inspired on how to style Beddy's in my kids bedrooms in our new home.
I thought you might enjoy seeing some of the sources I found along the way!
BEDDY'S BEDDING DISCOUNT CODE
If you are in the market for Beddy's Bedding, be sure to use my unique code to save you 20% off your purchase!
Use the code "TIDBITS" at checkout!
Let's check out 20 inspiring bedrooms with Beddy's bedding.
I love this Farmhouse striped bedding, and I think it works well in boys or girls spaces, just like you can see here at the Arin Solange blog.
The white Beddy's bedding can go with any color scheme. Case in point, this sweet pink and white bedroom by My life from Home.
Pink with a touch of aqua is always a good choice for a girls bedroom. Loved seeing this color combo in the home of 111 Light Lane.
The blog Gracefully Vintage is going to knock your socks off with these 2 spaces showing 2 different Beddy's Bedding. The gray and pink is so cute with these white planked walls.
This blue striped bedding is so fun with that pop of yellow! Well done Gracefully Vintage!
White Lane Decor used the blue striped bedding with a black and white combo. This is such a timeless bedroom.
If you've followed my friend Brooke from Nesting with Grace, you already know she is a fan! This room is so colorful and fun, grounded in white Beddy's!
Beddy's is a bunk bed back savor! The House of Hood made such a cute little girls shared bedroom below.
One of my all time favorites is the bedroom by By Jen Rose. It's proof that smaller bedrooms make the sweetest shared bedrooms!
Rebecca Propes made an adorable modern boys room with a simple black and white Beddy's bedding set.
I think Beddy's is perfect for day beds and trundle beds, as seen here with My Creative Days.
Instagram is full of wonderfully styled bedrooms with Beddy's Bedding. Visit @Carey_Bears on Instagram to see her charming Boho style.
The white Beddy's works so well into this colorful wall mural found at @interiordesignbychelsea.
I adore the Beddy's mix on these bunks from @whitelanedecor.
@homemaker_mama showed us that Beddy's is not just for kids! I might actually get my hubs to make the bed once in awhile if it was this easy!
Bedrooms with 3 beds always steal my heart! Ellison Made made all my dreams come true just seeing this bunk house style girls room.
Another amazing minimalistic example from White Lane Decor . All mothers of boys can rejoice in this simple, low maintenance bedroom.
How brilliant of @bigfamilylittlefarmhouse to use Beddy's on a porch swing! That is my dream nap spot right there!
Last but not least, this darling creative cottage house bunk bed situation from Mint Arrow is something my kids dream of! Beddy's is the perfect bedding solution for this space.
I hope you've enjoyed seeing how you can incorporate Beddy's Bedding into your home and bedrooms. I'd love to hear if you've used Beddy's and what you think of them. Our experience has been nothing short of amazing!
Be sure to click here and use the code "TIDBITS" to save 20% off your purchase!
I can't wait to get to my kid bedrooms and choose our next Beddy's!
This post is this months Simply Home Series with my blog buddies! We are all talking about Bedding, so please take a minute and check out what my friends have shared.
Maison de Cinq: How to Make the Perfect Bed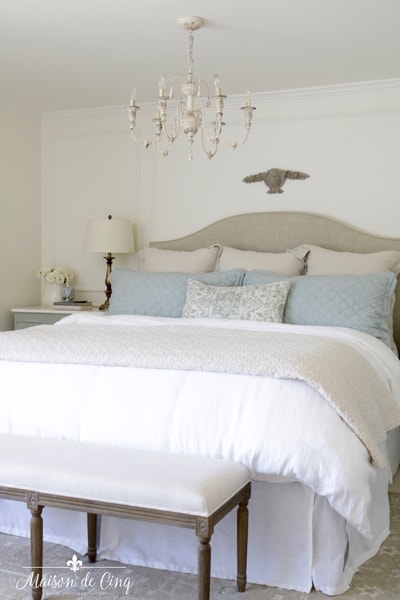 Seeking Lavender Lane: Neutral Summer Bedding
Shades of Blue: Lighter Bedding for Summer
So Much Better with Age: How to Style a Bed
Thistlewood Farms: Favorite Bedding Combinations
Tidbits: 20 Stunning Bedrooms with Beddy's Beds