So Christmas came tumbling down, and I've been staring at blank walls, shelves, mantels – white and clean everything.
Strangely – I've kind of enjoyed it.
But I realize at some point I need to add some visual interest so it doesn't look like we are moving out.
With the fresh year upon us, and a fresh clean start in my home – I've decided to take a "less is more" mantra. I want my winter decor to be very clean, simple and fresh.
I've been cruising my pinterest boards, and dissecting the work of some of my favorite bloggers in hopes of achieving the look I want. I wanted to share some of the images that sparked my attention with you, which were all inspiring images for clean and simple winter decor. I hope you can take some of the design elements from these pictures to inspire your own winter decorations.
Lets start with the lovely Julie Blanner. Her style always says fresh and clean to me.
I love the idea of cleaning out unwanted linens and displaying the ones you truly use and love. Nothing says cozy like blankets and pillows – but this image also says fresh and clean.
Julie also shows how effortless a simple, clutter free table runner can really be.
I also love this cozy, clean image of Julie's. Winter decor should be as simple as a candle and roses.
I also love her entry way/drop off spot. The muddy neutrals say winter to me, and I love the empty baskets! Who says we need to fill them anyway?
Be sure to follow Julie Blanner on Instagram as well. Her images are always lovely.
This next home is a favorite instagram feed of mine. Go follow fishman1963 on instagram for images that will stop you in your tracks every time. Her decor is so simple and clean and I'm loving what she is doing this winter.
Vintage Whites did a feature on her home, and here are some of my favorites that are inspiring my winter decor.
Simple pine cones and logs are perfect sitting by a fireplace.
Some cozy sweater pillows and lots of sunshine.
I love how she places clear vases in front of the window with minimalist floral arrangements.
See more at Vintage Whites Blog.
Also from vintage whites blog, is this lovely light filled room with bold colorful flowers. I think bringing in some bold color here and there might help with the winter blues.
And one more image from Vintage Whites that shows how comforting wood, white and a touch of nature can be.
This wreath stood right out to me. A lovely combo of white berries and soft green foliage. I'm hoping to find something similar in the fake flower departments 😉
Or I'll head right outside my front door and cut down some twigs for a simple twig wreath.
I love the idea of using groups of white candles here and there.
I can't get over the warmth and cleanliness of white candles on old wood.
This mantel with candles and fresh greenery is dreamy.
I've also been re-thinking our bedroom decor for winter. You can't go wrong with chunky knit throws and whites/off-whites.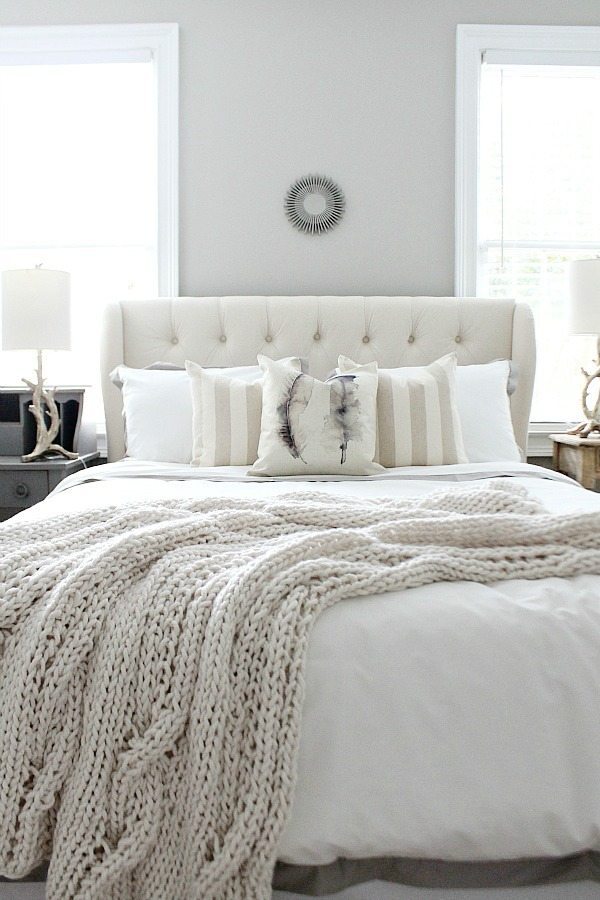 I love the idea of just throwing on extra layers to the bedding, which my cold toes will thank me for.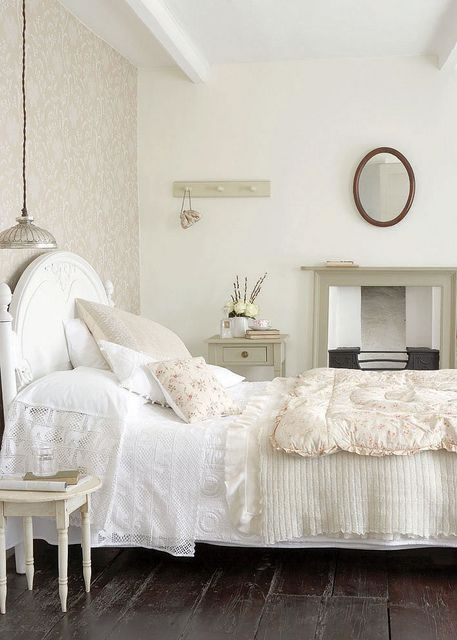 Our fireplace/mantel is completely empty at the moment, and the simplicity of the mantel below is inspiring.
Or I'd love to try something symmetrical on the mantel for a change.
This next living room pulls together several clean and simple decorations. Love the white pillows, stacks of books, and easy flower arrangements.
I've been wondering what to do in our entry way, and found some great inspiration.
This entry is so clean and uncluttered.
This entry with the white wall and blue frame is exactly what inspired our entry way. Her use of candles and flowers at the table is perfect.
Here is another example of an uncluttered, white entry space.
Looking at kitchens, I love how Marian keeps her boxwood wreath up all year long. Almost has me convinced to buy a real nice one that will last for years.
The kitchen is also a great place to bring in simple plants for the winter months. They will help improve the air and add a fresh vibe to your home.
I've also been toying with the idea of buying bunches of baby's breath to place here and there.
I'd like to place white and wood together wherever I can. Something about that combo is so refreshing and cozy at the same time.
Finally, if I knew how – I'd try my hand at pushing some bulbs in my home.
I hope you've enjoyed this round-up of clean and simple winter decor inspiration!
I'd love to hear your plans for decorating during these cold months before I get started on mine!
Thanks for being here!
---
*Linking up to these parties, HERE.