This post may contain affiliate links, which means I get a small percentage of the sale at no extra cost to you. I only recommend items I love and have had a positive experience with. Thank you!
I've recently gained a greater appreciation for taking care of your outdoor spaces. With our Deck Makeover I just revealed, it truly felt like we added living square footage onto our house by turning it into a space we now love to entertain, relax and unwind in.
I thought it would be fun to take you through some of the images I found online that made an influence on how this space came together, and compare it to the actual outcome on our deck. I love to see how it all came together taking ideas here and there and working with our own space and limitations.
I always fill my inspiration cup to the tippy top before I tackle a project, and make sure I have plenty of ideas stock piled before we begin.
Then I sit down with my husband and we make a list of potential projects, supplies needed, time frames and do a lot of measuring and brainstorming together. It's really one of our favorite things to do together.
My hope is that you'll gain ideas for how you can take inspiration you find online or in magazines and infuse them into your own spaces with your own style.
*All sources are listed and linked below each image. I do my best to find the original source, but sometimes that is difficult to track down so I've left the pinterest link.
I loved the idea of a small roll around cart for drinks and treats, which all started with the image below.
We used a slab of marble we already had to make ours, mixed with scraps of wood.
We also loved the idea of a rolling cart set by the grill area, for serving and storing options. This cart got us brainstorming the design.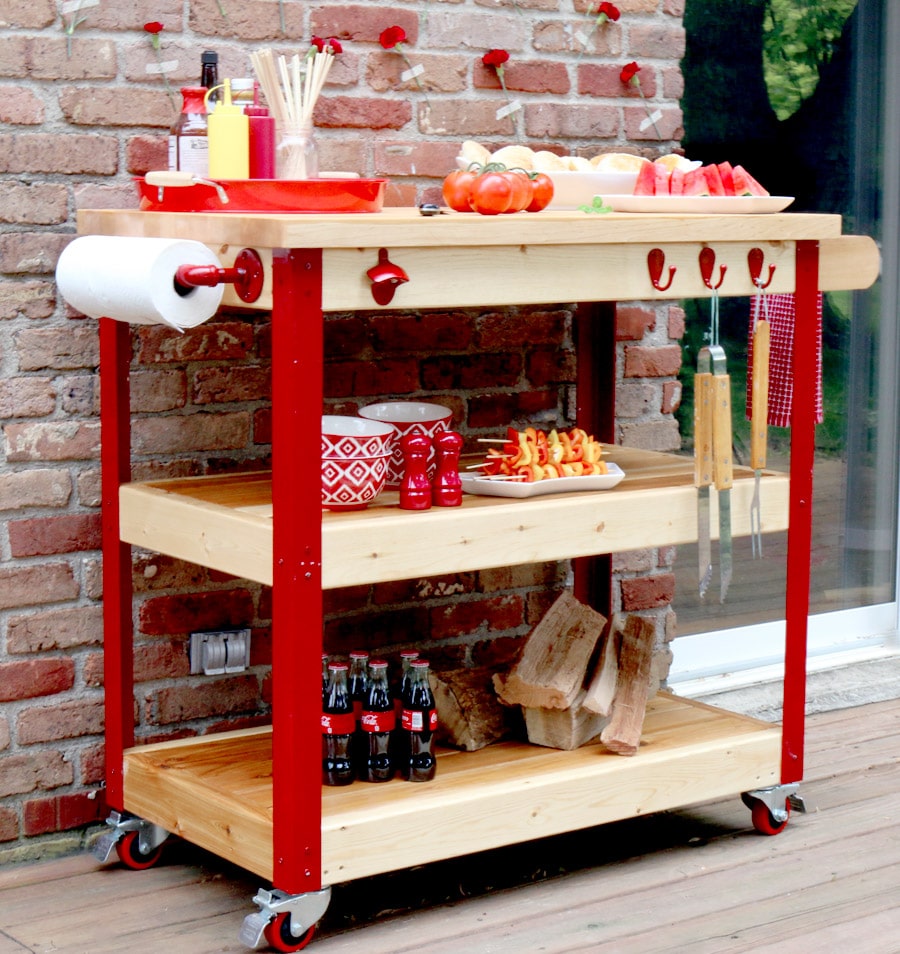 The House of Wood – (full tutorial for this red and wood cart!)
But this image of this pallet cart made me want to have something with a little more timeless character and that looked like it had been pieced together with new and old wood.
Here is how ours turned out.
This lovely porch had me wanting flower boxes all along the railing.
All Things Shabby and Beautiful
But knowing my black thumb, we opted for just one. Someday I'd love to have these gorgeous blooms spilling out of it as well.
Our shelf by the window came about after seeing this image.
While we were debating back and forth if it was worth it to paint our railing white and replace the top, I saw this deck picture and knew it would look great if we did it. It was a pain to paint, I wont lie – but the results are well worth it.
We were trying to fathom how to squeeze in more sitting room and work space by the grill area, and this image below helped us realize we could double up on the railing top in a spot and provide an extra spot to pull up some bar stools for guests and kids to eat at.
I was originally dreaming up a white pergola, but wondered if we should keep it natural wood. Then I saw the image below and it reinforced the fact that white is always right. 😉 At least for me!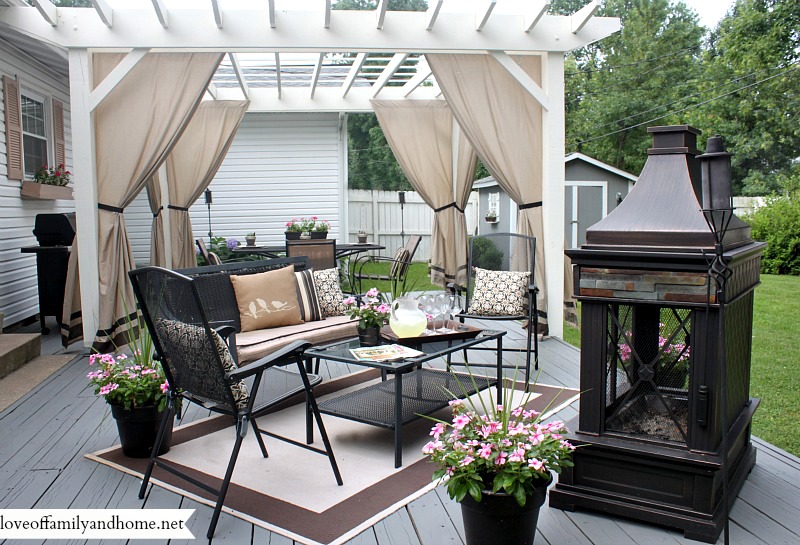 This patio makeover by my friend Liz had a huge influence on me for the general feel I wanted to create. Lots of whites, woods, and simple greens with touches of old metal here and there.
I loved the idea of some hanging plants on a trellis.
I actually bought the trellis from Home Depot, then returned it when I spied a crib spring stored up in our garage for a special purpose. I used that to hang my plants and garden decor instead, and is always the first thing guests comment on.
This is just a sweet image that inspired me with colors and time worn character. I really wanted a old watering can and was thrilled to find the light blue one which you see featured in my images.
I loved the idea of hanging lanterns, brought about by this image.
I found our hooks at an antique store and I love our solar lanterns from Joss and Main.
I'm not sure if there is an exact element I implemented from this image, but the casual and cozy feel was inspiring to me.
Our furniture set from Joss and Main is perfectly cozy, and easy to upkeep. I keep the pillow and blankets minimal so we can plop down without having to move too many things.
These 2 images from the same gifted UK blogger exemplify my love for mixing old and new and natural elements.
I love the soft touch of blue mixed with the whites and florals in the image below.
While I'd love to get my hands on this hanging swing, I just love the relaxed vibe from this outdoor space.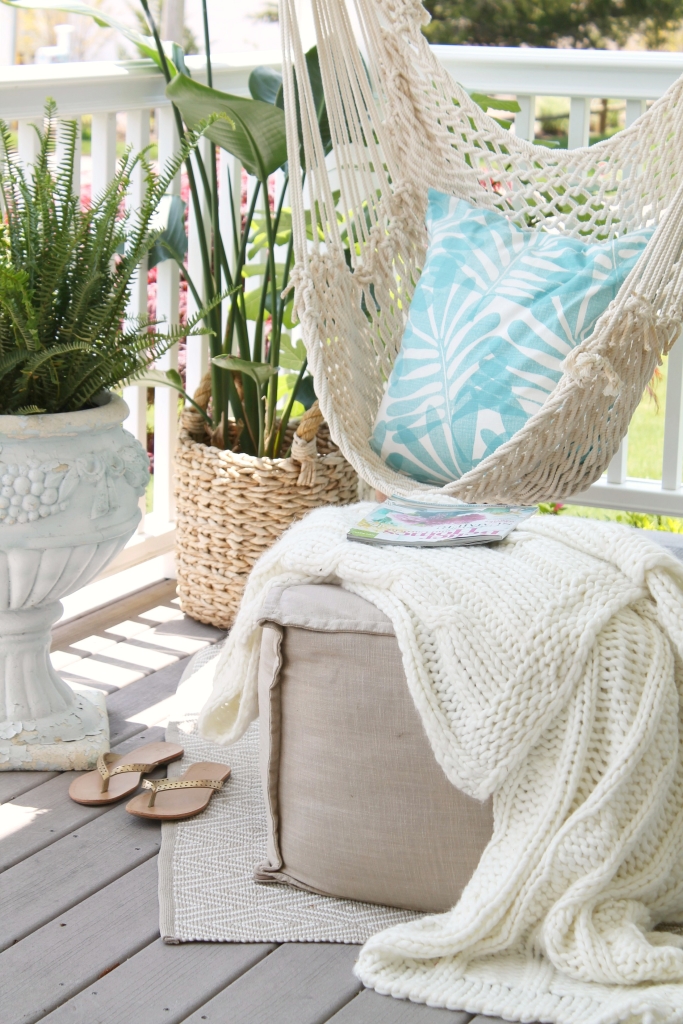 I love the mix of old metal, white flowers and soft touches of green.
I've adored these metal chairs from Miss Mustard Seed's deck. Ours are not antiques, but a similar purchase from Walmart.
I loved the use of old shutters and implemented them into our TV storage hutch. The darker blue color was also inspiring.
The simple design of the table below has been in the back of my head for years.
I was excited to implement it into our deck. I did a pickled white-wash stain on the top boards and painted the legs white.
I love how the French coffee table adds character to this outdoor space. I think it takes the comfort and reliability of new, store bought furniture and adds life to it.
I was thrilled when I found something similar for a great price! Every room needs a touch of French flair.
I knew some curtains were needed to add that bit of romantic and relaxed feel to the pergola. I wanted something that would hold up to the heat and rain and a mesh curtain felt like a good option.
This image of a skirted hutch inspired me as well.
I made good use of some old grain sacks I've been hoarding for just such a purpose.
I think that about covers my inspiration for this space. I hope you've enjoyed seeing how things came together and why I do some of the things I do.
I'd love to hear where you get your ideas and how you implement them into your spaces!
Thanks for being here today!
Cami