French Cottage Bathroom Inspiration round-up. A great way to get your creative juices flowing before you dive into your own space makeover!
How do you prefer to get started on a project?
Are you a total design natural, and you know exactly what you want right away?
Do you need someone else to come in to give suggestions?
Or are you like me, and need a good Pinterest session looking for just the right inspiration starting point?
I've gathered some of my favorite French Cottage Bathroom inspiration images that are helping me figure exactly the feel I want for our current bathroom remodel. While these bathrooms vary in size and shape, I love to pick and choose favorite elements from each space and figure how I could work or rework them into our bathroom. This is typically how I always start a project, proceeded by planning a design board and what products we need to purchase. (View our before images and design board here).
Feel free to relax and get comfortable while I show you some wonderful inspiration below, and I'll follow it up with some design sketches my husband did for our space while we were in planning mode. If you simply want more bathroom inspiration, take a look at my curated Bathroom Pinterest Board which has all sorts of goodies.
*Disclaimer – I work hard to find the original source for these images. However, I don't always succeed in my search. Where the original source cannot be found, I have linked to the Pinterest source where I did find that image. Hopefully that helps.
---
I think open shelving adds character to any space.
Source: Pinterest
We have a small bathroom, with almost this exact layout. This image is proof that even small spaces can be very beautiful . . . and when possible, adding a window can make a huge difference.
Source: Pinterest
I love the marble border here with the drop in tub, and the glass doors make it feel very spacious.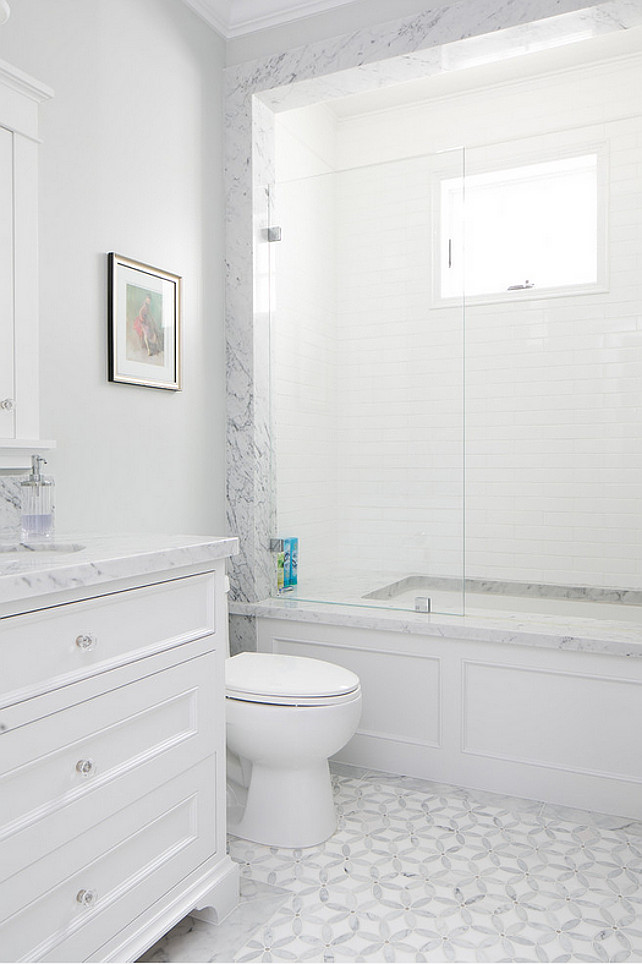 Source: Home Bunch
I have to throw in our own Master Bathroom makeover – simply because I want to be sure our home flows together well 😉
Source: TIDBITS
The bead board 2 toned walls look great in this space.
Source: Pinterest
This French style dresser turned vanity is absolutely stunning!
Source: The Pretty Blog
Dreamy Whites never disappoints! There is much to love about this space, but I'm always a big fan of built in recessed shelving.
Source: Dreamy Whites
The simplicity in this space is lovely to me, and I can't get enough of that small marble shelf above the sink. Brilliant!
Source: Vintage Whites Blog
This classic marble floor and tub surround will never go out of style.
Source: Maison De Pax
No one does French style quite like Courtney from the French Country Cottage. Her bathroom spaces are full of inspiration.
Source: French Country Cottage
Source: French Country Cottage
Another great example of open shelving.
Source: Pinterest
I've been dreaming of a lace shower curtain panel, much like this one.
Sourc: Bed Bath and Home
I'm convinced any cottage space needs a touch of blue.
Source: Chans Furniture
A lovely example of delicate white on whites.
Source: Pinterest
I'm still debating the wall treatment for our space, or if I should just leave it plain. But this white bead board and walls seems to add a nice cottage layer to it.
Source: Pinterest
Marble with white walls and touches of gold! Yum!
Source: Decor Pad
This is some lovely styling for a bathroom. The styling stage is my absolute favorite!
Source: Designenthusiasm
This lovely image is so perfectly cottage to me.
Source: Witch Cottage
Another touch of blue in a well designed small bathroom.
Source: Tidbits and Twine
I'm looking at the wall trim and open boxed shelving in this image. Some things to consider.
Source: The Golden Sycamore
Love the curves and detail on this vanity below. Not to mention the mirror and all that white!!
Source: Beautiful South
Another bead board wall detail and curvy vanity.
Source: Heart Handmade UK
Proof that a lace shower curtain can be a beautiful touch!
Source: HVITUR LAKKRIS
Finally, while we were designing, my husband took some of my ideas and sketched them up. I think he missed his calling in life 😉 . These are some great sketches, don't ya think?
As we've begun this project, some things have changed due to availability and resources. But those initial sketches helped us immensely in getting a better visual feel for what we could and could not do in our bathroom.
I'll be sure to keep you updated with our progress!
Thanks for reading!