This post may contain affiliate links, which means I get a small percentage of the sale at no extra cost to you. I only recommend items I love and have had a positive experience with. Thank you!
**This post is sponsored by Wayfair.  All opinions are my own . . . and it just so happens, that I'm a very opinionated person.  😉 Please enjoy this collection of bathroom flooring inspiration, from a selection of tiles that inspired me.
When I first set forth to tackle the task of planning out our bathroom remodel, I knew the flooring was in desperate need of a good update.  I mean, floors are kind of the foundation of a space, right?  And did you get a chance to see our bathroom "before" images?  The floors and shower walls were just not working.  Well ok – nothing was working for my delicate eyes.
So while doing my due diligence in researching the best flooring options, I happened upon Wayfair.com . . . once again.
I go there a lot to find furniture and decor items in all styles, but I would never have thought they had the fun flooring options that I discovered.
So – I set my mind to reaching out to them to see if they would like to help me share with the world their dirty little flooring secret.  I was as pleased as can be that they were all for it!  So with their help, I want to show you now some of my absolute favorite flooring options available at Wayfair, more specifically, tile flooring that would look lovely in a bathroom.  And then I'll spill the beans on the exact tiles we selected for our bathroom floor and shower walls.  I wonder if you can guess my selection before I share????  Are you up for the challenge?
If you too are on the market for new bathroom flooring, keep in mind that you can generally afford to splurge a little more than you would on whole house flooring.  Because of the smaller space to update, you have a little more freedom to think outside of the box.
*This post contains my affiliate links.  Thank you!
TILES
As you probably already know, tile is a great option for bathrooms.  Water and moisture resistant, pretty easy to install, and the selections are endless. Let's focus on some of the different types of tile they carry, and I'll show you which ones really caught my eye.
PATTERNED TILE
Go bold or go home!  I've always wanted the courage to choose a creative flooring, and I think bathroom spaces are the perfect chance to do that.  (I might add – I'm kind of a conservative person . . . so my bold might not be the same as yours 😉
This vintage/antique looking piece of tile caught my eye right away!  Isn't it just faded blue perfection!  And the pattern is stunning!
Or maybe you would like to play with pattern but not too much color.  This lovely white patterned tile reminded me of doily's.  What a beautiful feminine space it would make!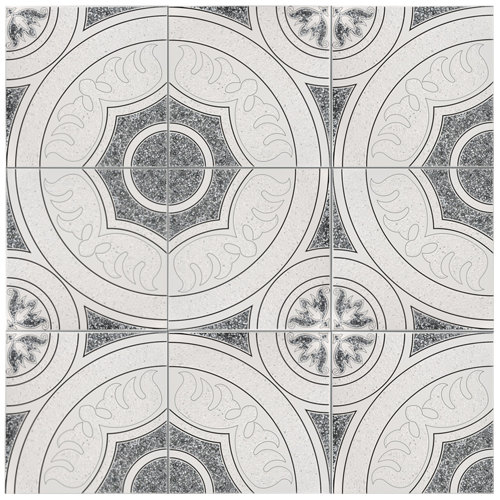 This feels to me like it could be a classic tile, that would stand the test of time in-spite of being patterned.  You can rarely go wrong with black, white and grays.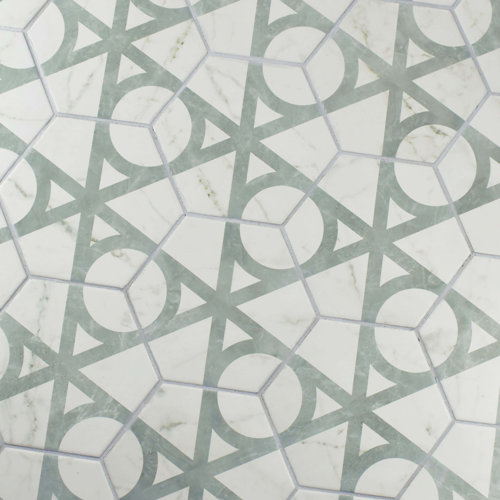 I found this tile really intriguing.  It has marble veining throughout, yet a subtle green faded pattern on top.  I think it would be stunning in an all white bathroom with some greenery in the decor.  Or am I crazy?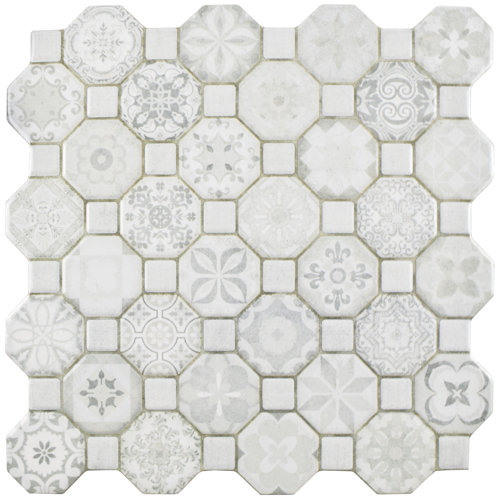 You can call me crazy, but I haven't liked the teeny tiny hexagon tiles trend.  I always felt it was too busy.  But when I saw this patterned white on white tile, it reminded me of the quilt I've always dreamt of making, but lack the patience to do so.  This would be absolute cottage perfection in my book.
Enjoy this fun little shopping slider, where you can click on the tile and go to Wayfair and see examples of the tiles being used in spaces.

STONE AND STONE-LIKE TILES
Stone tiles are classics.  Meant to take their cue from Mother Earth, we have lots of options for natural looking tiles, such as marble, granite, slate, limestone, etc.  Let's explore a few!
White Marble
Sweet, beautiful, never-go-out-of-style, white marble.  Sigh.
I'm crushing hard on these long rectangular pieces
4 x 12 Honed Marble Arabescato Carrara
And on these long 4 x 12 pieces.  Marble alone can take any space from a 2 to a 10!  I'm fully convinced.  It is a very porous surface, so you have to be sure to seal it good and often.  But holy smokes – well worth the effort!
I got a little hesitant recommending slate, because we've tried it before and I didn't like the feel of it under my feel or all the orange tones.  However, I've been seeing this dark gray slate being used more and I think it can have a very refined cozy look.  And if you seal it right, it shouldn't need to be rough.  I'm not one to go dark, but I'm liking the idea of this in an all white bathroom as well, with the flooring having a nice contrast, and some wood tones throughout the space.  Catch my vision?
This Limestone had me at hello!  I love the pattern here, the rustic warn edges, and the soft off-white color.  I'd settle for this all over my house too.  It would fit in nicely with my French Cottage style.

Wood Look Tiles
Real wood can be tricky in a space where moisture is constantly present.  Thank heavens for wood look tiles!  You can achieve the warmth of wood, without the risk.  Let's take a look at some good ones.
I think the name for this tile is very fitting.  It looks just like something from an old farmhouse, with varying shades of brown and subtle grays.  I haven't seen any wood look tiles quite this lovely.  I'd love to see it in person!  What's great about wood tile is it can easily be used on walls too!  Even for a shower!
Tile that looks like chippy white wood??  Yes, please!
What an interesting finish this would be in a bathroom.
I tried to find some wood like tile that looked like our other bathroom flooring, because I love it sooooo much!  However, it is wood, so I always have to be careful no to let water sit on it too long.  But this tile has a nice white washed look to it.  Again, I'd love to see this in person, but I think it would work great if you are wanting some wood grain in your space, without the darkness that sometimes comes with the wood look.
This one caught my eye because it is beautiful, and it had the word "Paris" in the title.  Sure winner!  A nice rustic look again.  Would be lovely with whites, or pops of color.

I want to add one more tile option, that doesn't fall in any of the categories above.  But I would love to try it in a space someday!
I
have always had an obsession with baby blue.  My first car was baby blue, and I rightfully called her "Baby Blue".  My prom dresses of choice were the color baby blue.   And still, it is the color that always catches my eye.  I would adore a bathroom lined from floor to top with this crystal clear baby blue tile.  Gorgeous!
So now it is time to reveal the tile that we selected for our bathroom makeover!
It was no doubt a hard pick, but I finally settled on . . . . drum roll please . . . White Marble!
Did you guess that?  Am I that predictable?  Or did you have an other favorite that you were hoping I picked?  I'd love to hear!
We are actually in the middle of DIY'ing our way to having the marble tile finished and installed, and I am not regretting my decision one bit.  I really wanted a classic look, and marble is just that.  It builds the perfect foundation for the French Cottage feel I'm after, and it's something I've always dreamed of having.
It came shipped from Wayfair in perfect condition, and for me at least, it was like Christmas morning!
We ordered the exact pieces I mentioned and linked to above.  The long rectangle pieces for the flooring and shower walls . . .
And the 4 x 12 pieces for the bath tub front.
If you've ever wanted to install marble tile in your home as well, I'll be back very soon with my husband, as he is sharing his steps and tips for installing and finishing marble tile.
I can't wait to show you!!  Stay tuned!!