Take a peek inside our rental home for the Holidays! We kept things VERY simple and as inexpensive as possible, but I hope you'll still find some inspiration with our Natural Christmas Decorations.
Welcome everyone coming from Love Grows Wild!  Take a minute to close your jaw and wipe the drool . . . I know, Liz works decor miracles. Love that girl to death!
I'm shrugging off my pride and swinging open the doors of vulnerability and letting you all into our rental home for the Holidays . . . at least the only part that is decorated.
We really are grateful to be where we are at the moment, with a slower pace of living and exciting things to look forward to, but I just didn't feel like my decor this year was anything very inspiring or worth taking up your brain space.
Then a couple of things happened.  A dear friend and fellow blogger, Sheila from Maison de Cinq contacted me and asked me to fill a spot in her Farmhouse Christmas home tours, and did her best to convince me that what I had to share would be worth it.
I also took my IG Stories followers for a little tour and was floored by the kind comments and feedback for the natural decor I had used. You see, nature is not only beautiful, but very inexpensive (or free!) and many seemed grateful for the ideas that would allow them to add decor without the cost.
Buoyed by the encouragement of the kind souls in this world, here I am, sharing my life in each stage . . . Pinterest perfect or not.
Natural Christmas Decorations in Our Home
If Farmhouse style resonates with yours, in a big or subtle way, be sure to cruise through the beautiful homes at the bottom of this post.
Each blogger decorates with Farmhouse Elements, in their own unique way and interpretation.
It is so very inspiring to see them all come together like this!
I tend to love natural, simple and curated decor, so Farmhouse style subconsciously sneaks in no matter where I am at.
In this house, bringing in rustic and naturalistic elements seemed like the right direction to help create a cozy atmosphere for my family.
It started with a wonderful day up in the mountains together and chopping down a sparse but beautiful evergreen tree.
Then I sprinkled in other natural elements like dried oranges, dried apples, fresh greenery, pinecones and we even dehydrated cranberries to make cranberry garland to go with the popcorn garland.
It was all a family affair and we watched many Christmas movies to get through it all! A treasured memory (now that it is said and done).
Our food dehydrator has been working on overdrive!
The only thing I bought this year were these battery operated remote candlelights. They clip right onto the branches and all turn on with the push of a button.
I adore a sparse mountain tree, but can't stand when the cords from string lights hang and dangle everywhere. These candle lights are the perfect alternative!
Other candles and lights dress the mantel with fresh garland and oranges.
I've placed our Book Countdown near the tree, one of my absolute favorite traditions.
I posted our Families Favorite Christmas books if you are looking to add few to your collection this year.
Lastly, I shifted around some furniture so I could squeeze in a side-table to hold our Nativity, a treasure passed down to me from my Grandmother.
A few cozy blankets and pillows top it all off.
While this home may not suit my TIDBITS style perfectly, I hope it has inspired you to find a way to cozy up your home no matter the situation you find yourself in.
Simply look to nature to inspire your Farmhouse decor . . . and the following bloggers homes will help guide you too 😉
If you would like to know a couple of ways to dry or dehydrate fruit, I wrote about that on my DIY Dried Stovetop Potpourri gift idea.
If you would like to see what a TIDBITS Christmas usually looks like, check out my favorite year ever . . . A French Farmhouse Christmas tour.
I've also created some themed Christmas decor round-ups, which you can get a glimpse of all the themes HERE, or for the Farmhouse fans, skip right to all things Farmhouse!
If you haven't seen it already, our old home made a comeback for our Classic Red and Green Farmhouse Christmas Bedroom.
Next year, I'm hoping to share a Christmas tour from a new home on this beautiful 25 acres of land! More details about this big dream coming up in video and photos so soon! Eeeeeek!
Thank you for stopping by today and I hope you'll all each enjoy a little Farmhouse in your Christmas!
See all my friends' homes down below, or continue this home tour loop by heading over to the incredible, kind, generous, and extremely talented Liz Marie Blog!
(P.S. Did you see what Liz and her husband announced on her Instagram stories?!! Funding someone else's adoption!!! Incredible! Go and nominate yourselves or someone you know hoping to adopt, if there is still time!)
FARMHOUSE CHRISTMAS HOME TOURS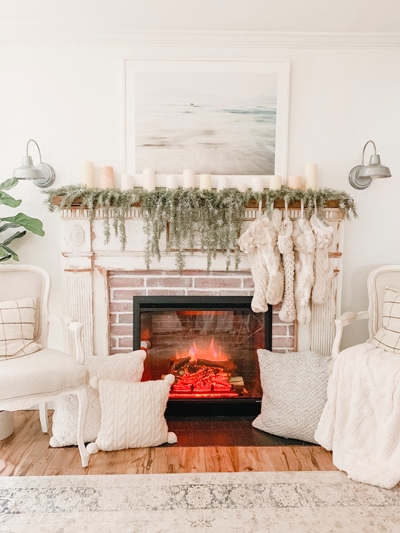 And if you missed yesterday's posts, you can get to those by clicking the links below!
Thursday's Posts:
Maison de Cinq | Boxwood Avenue | Ella Claire | Rooms for Rent | Maison de Pax | Farmhouse on Boone | Thistlewood Farms
Friday's Posts:

Miss Mustard Seed | Love Grows Wild | Tidbits | Liz Marie Blog | So Much Better with Age | Mountain View Cottage | Lauren McBride