I'd say it's high time for another round of Christmas movies to watch on Netflix!  
Wouldn't you?
Last year when I put out my Netflix series, I was pleased to discover that many of you enjoy a good round of movie watching as well.  I now take my responsibilities to provide you with a quality list of movies to watch very seriously.
Movie watching is serious business, after all.
When I discovered that many of the movies on my Christmas list for 2015 were no longer available for online streaming on Netflix, I decided it was time to get watching and update my list.  I will note, if you can get your hands on many of the Christmas movies on my previous list HERE, they are still really good ones to watch, even if they are not on Netflix streaming this year.
I also have my mom to thank for weeding out the ones that are not worth our time at all.  Some Christmas movies have a tendency to get unbearably cheesy . . . if you know what I mean.
Before you proceed to the "Top 15 Christmas Movies to Watch on Netflix" list for 2016, I always have to add the disclaimer that I believe a good Holiday flick needs to have 3 things.
Predictable endings
Love stories
Lots of Holiday cheer (meaning the occasional cheesy acting)
That being said, go ahead and cuddle up to a loved one under the glow of a warm fire, grab some hot cocoa, popcorn, and fill your heart with the Christmas spirit that can be found in each of these movies.
*DISCLOSURE:  THE LINKS I'VE PROVIDED FOR EACH MOVIE WILL TAKE YOU TO THE AMAZON LISTING FOR THE MOVIE, AND IS AN AFFILIATE LINK.  THIS IS A GREAT PLACE TO READ OTHER REVIEWS AND FIND OUT MORE DETAILS ON THE MOVIE, or even watch it there.  HOWEVER, IF YOU WANT TO WATCH IT WITH YOUR NETFLIX ONLINE STREAMING ACCOUNT, SIMPLY SEARCH THE TITLE OF THE MOVIE ON NETFLIX.  ALL IMAGES FOUND ON AMAZON.
This humorous and festive family brings a fun twist on the classic love triangle, when this business woman brings home a hired boyfriend to get her family off her back about dating and getting married.
12 Dates of Christmas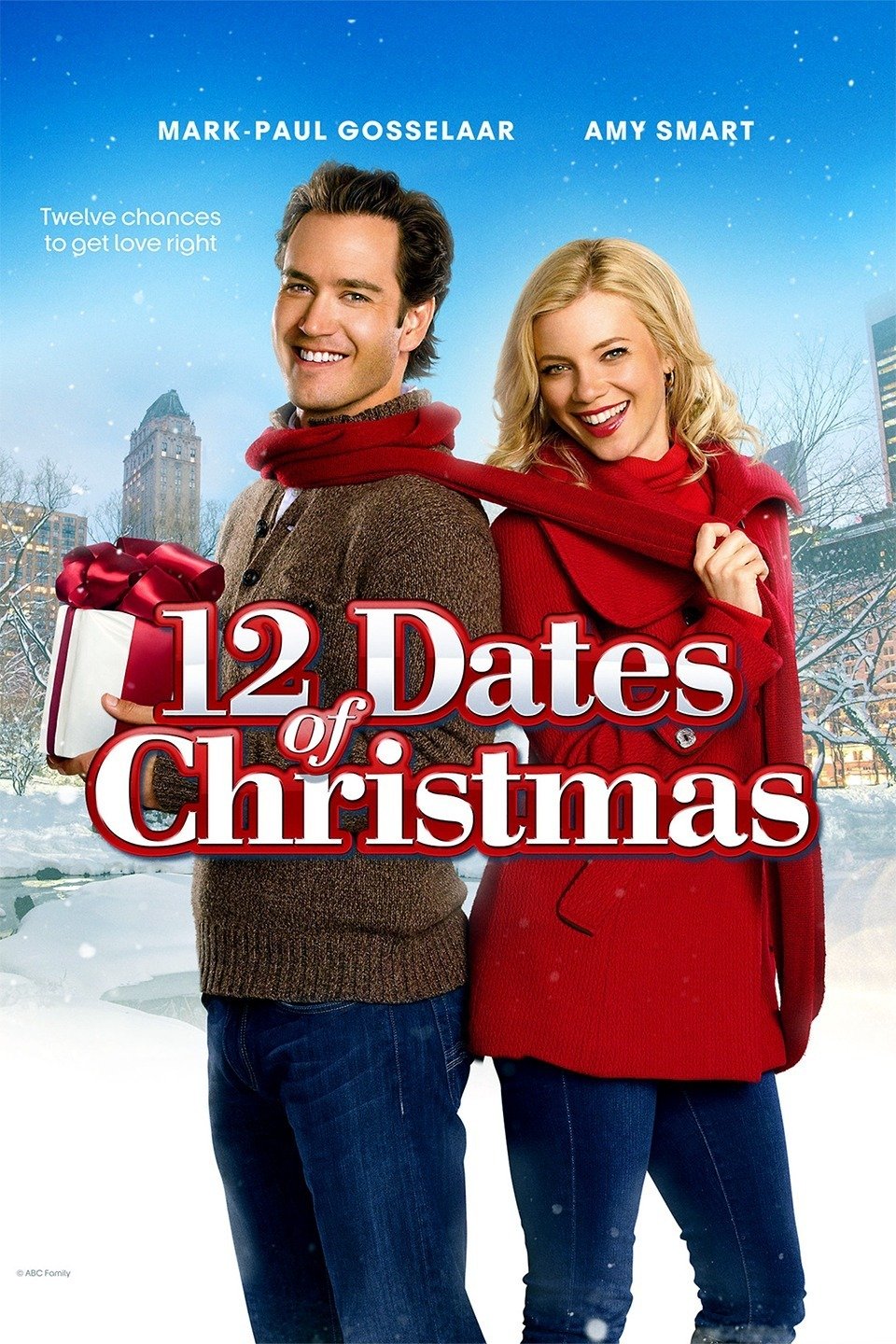 Take the movie "Groundhog day", and give it a Christmas spin.  This upbeat Christmas movie will be entertaining for the whole family.
Love at first kiss?  This Holiday love drama is everything a predictable Christmas love story should be.
Let's give it up for a couple of Christmas classics!  Nothing beats Bing Crosby in White Christmas filmed in the 50's.  My kids truly get a kick out of this show every time we play it.  This movie should be passed down as diligently as a family heirloom!
Another oldie but goodie here!  I'm so glad Netflix has provided some Christmas movies that will never go out of style.  My kids love this show for the Christmas magic, and I love it for the spirit of believing that comes to my heart when I watch it.
Don't hesitate to let your kids enjoy this movie with you, all about believing and Christmas miracles.  I watched it for the Irish accent. 😉
You can't go wrong with Queen Latifah!  She does it again with this Holiday movie all about hope, faith and believing in yourself.
This movie will warm the hearts of Christians all over the world, as friends, family and neighbors gather together to lift each other in the name of their faith and beliefs.
Although not actually a movie, I felt this was entertaining enough to be on this list.  It is simply the sounds of a fireplace with classical Christmas music for background noise to spark the Holiday spirit.  Fun to turn on before the kids get home from school.
Matchmaking at it's finest!  While not centered around Christmas season completely, you'll enjoy bits and pieces of the Holidays in this love story.
Even if you are not familiar with "Good Luck Charlie", you'll still enjoy this movie as the Holiday drama unfolds in this Christmas edition.
Thankfully one of the best Christmas movies Netflix left on from last year.  It is the sweetest little love story about a soldier who hangs on to an anonymous Christmas card and is determined to find the writer who offered him strength while away.
Her son fills up her dating card and all of a sudden she has too many choices.  True Christmas love prevails!
Another "search into your soul" movie as a women has to choose between a busy city life or home in the country – with plenty of song mixed in.
I had to put this on for my kids sake.  They talked about this movie for a year.  It was slightly painful for me to watch (due to some cheesy acting), but the kiddos will truly enjoy it if you sit down with them and watch this Holiday mystery.  Trust me.
This technically makes it 16 Christmas movies, but in case you are mad at me for including the fireplace one, I thought I'd throw in Pete's Christmas.  A fun one for family night as well and one the kids will enjoy with you.  Another Christmas spin based on the same story line as "Groundhog Day".
As always, I'd love to hear if you have any recommendations for us as well.  Add it to the comments below so we can all see what else there is to watch on Netflix.
Thanks so much for reading today, and I hope you've added some to your watch list this season.  I'd love to have you share this list with your friends and family!  It usually sparks great conversation on social!
Don't miss my favorite list of things to watch in my "Top 10 Clean Feel-Good TV Shows to Watch on Netflix."  These are still my absolute favorites!
And if you need a little help with babysitting (wink, wink), take a look at my "Top 10 TV Show for Kids that Teach Good Things on Netflix".