While I am still in the planning phase of our master bedroom makeover (yep, summer play is taking over any real progress), one thing that has been very important to consider is the budget.
Obviously.
You've got to know how much money you have available to spend on the project, and what not to spend.  This is much better to figure out before you go all shopping crazy.  A lot of the pieces I want in the room, we cannot afford – which is where my "build-it-myself" husband comes in real handy 😉  In the next post I will address the items we plan to DIY for our master bedroom.  But for now, I want to discuss the things I've had my eye on to buy.  Some may or may not actually happen – but they are giving me an idea for what things will cost and what kind of style I actually intend on bringing in this space.  Some items are actually perks of being a blogger as well, either through affiliate companies or companies wanting promotion and are willing to trade products – which is always exciting.
The first thing I am looking into is new blinds for the room.  If you'll remember from this before picture, we have some horrible 90's forest green metal blinds from moving it – and they really need to go.  Custom blinds for this bay window are expected to be my biggest purchase, and I'm still deciding which ones I should go with.
I like the idea of bringing in some natural wood tones to the windows, which I think will look nice against all the white, tone on tone colors I have planned.  I've scoped out a few online blind companies and this one called 3 day blinds looks very customer friendly and they have a lot of options.
I specifically like these bamboo looking shades called "Catania Sable".
Or I'm wondering if I'll like these "Hessian Jute" roller blinds.
Kind of a softer woven look.  Any way – still deciding.
After the blinds are purchased, I've got my eye on several smaller pieces which I think will add a lot to the room.  For example, there is something about this lamp that I just can't get over.
It is found HERE at Carmel Decor, which has many lovely things to shop.  I love how it will add just enough farmhouse and masculine to the room.
Two other items I have my eye on at Carmel Decor is this throw blanket HERE . . .
. . . and these French inspired pillows.
Just gorgeous.
Next, I've been cruising Amazon for some things I can't seem to find anywhere else for the bargains they have (delivered to your doorstep).
I most definitely think a serene room starts with a chandelier.  And THIS one is a great buy from Amazon.
It will look even better with THIS above it, mounted to the ceiling.
Amazon had a huge variety of curtain rods, which I will need.  I love that I could find more options than going to a hardware store.  THIS curtain rod will look nice.
I also discovered this darling site, with so many unique products, called Antique Farm House.
They have this floor mirror that would look perfect in this little corner I have.
And these sconces that I would love to see on either side of our bed.
Then I went over to One Kings Lane, because I've seen their "new vintage" furniture, and I knew if anything – shopping around on their site would be inspiring.
I did find this bench.
And it is killing me.  It is absolutely perfect (though a bit pricey).  This may be a DIY project, but if not – it is inspiring me to look for something like it at antique stores and while out shopping.  I can't help imagine how good this bench would look at the end of our bed.
One Kings Lane also has those hard to find Louis chairs and other french provincial items that are all drool worthy.  Once again, I plan to keep my eye out during shopping trips for something like this.
As far as bedding goes – I'm still up in the air about how everything will go there.  I think it will be one of those things where I piece together items I find and love, and probably a lot of sewing on my part.  But, what I do know for sure is it will start with this amazing deal from Linenspa.  It is called a "BED in a Bag".
It comes with 2 pillows, microfiber sheets and pillowcases, and a white comforter (to insert into a duvet).  It is really the best bang for your buck I have yet to see.  I love all the bedding Linenspa sells.
I actually already have this product in hand, and I am amazed by the quality.  It totally feels like hotel bedding.  They were kind enough to let me review this product at no cost (FYI – and if you are a blogger, Linenspa has a wonderful affiliate program).
While I have been thinking about the bedding, I've been searching for fabric online.  I came across THIS etsy site that has beautiful woven grain sack fabric by the yard.  I might just have to buy a yard or two.  Blankets, pillows . . . not sure yet – but something.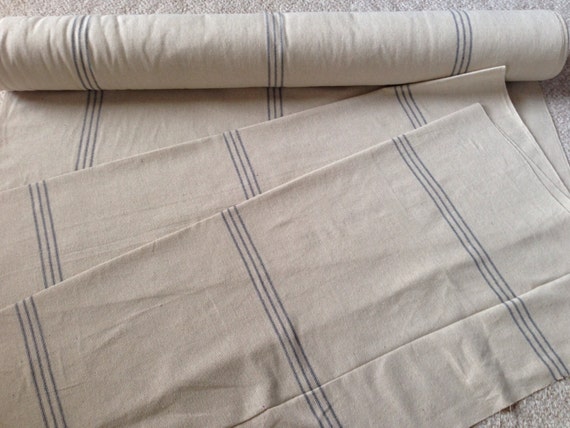 Lastly, I've been on a serious hunt for a small french provincial inspired side table to set on one end of the bed.  Much like this one I found.
No luck yet, but I can't get rid of the thoughts that I need one.  A curved piece like that is a bit harder to build yourself so I'm frequently visiting my local thrift stores and antique stores trying to score one.  I might resort to online buying, but we'll see.
That is about all I have planned in my future purchases so far for our master bedroom.
Next up I'll discuss the DIY's we plan to tackle, which is really my favorite part.
If you missed them, I discussed some inspiration pictures I've put together for the room, HERE.
As well as some basic design elements I plan to integrate into this space.
Hoping it all comes together!
---
Be sure to sign up by email so you don't miss this room makeover!
*This post contains affiliate links for products I plan to use.
**Linking up to these parties, HERE.