So many of you mentioned in the comments of my last post on pillows, how you have been on the hunt for a great pillow for so long.  I truly cannot say enough good about this Gel-infused Dough Memory Foam Core Pillow.  Before I discovered this pillow, I was always skeptical about a memory foam pillow.  I like a big fluffy pillow to sink into when my head hits that bed.  Always have.  Memory foam sounded so . . . not fluffy.  What's great about this pillow is that the memory foam is sandwiched between layers of super high quality down – so it is fluffy with the added support of the foam.  I've always had to wad up my high end down pillows to get the stability I've wanted, but this one stays right where I like it all night – no wadding necessary.  This pillow is my dream come true.  There is the feature of being made from a cooler Gel foam so it breathes better – which sounds great too.  I just love the comfort 😉
I am so grateful for the chance Linenspa gave me to try out this pillow, and offer it to a reader – and to spread the word to all the pillow snobs out there!
Buy yours here, and use the code "TIDBITS" to save 15% off.
Now – I can't leave a post without some inspiration.  So here is some more pillow talk for you (if you haven't had enough).
I discovered 20 ways to sew a pillowcase!  Who knew there were so many?
Enjoy!
If you're looking for a basic pillowcase design, clearly spelled out in wonderful detail – then check out this tutorial by the queen of AMAZING tutorials – MADE.
Here is a pillowcase that hides the pillow inside, which I think is fantastic!  Tutorial from A Spoonful of Sugar.
Also from A Spoonful of Sugar, this Hexie Pillowcase has beautiful detail!  These instructions are great if you are wanting something truly special.
These pillowcases looks simple enough for any level of sewer, but are so beautiful with the added trim and floral fabrics.  From At Home on the Bay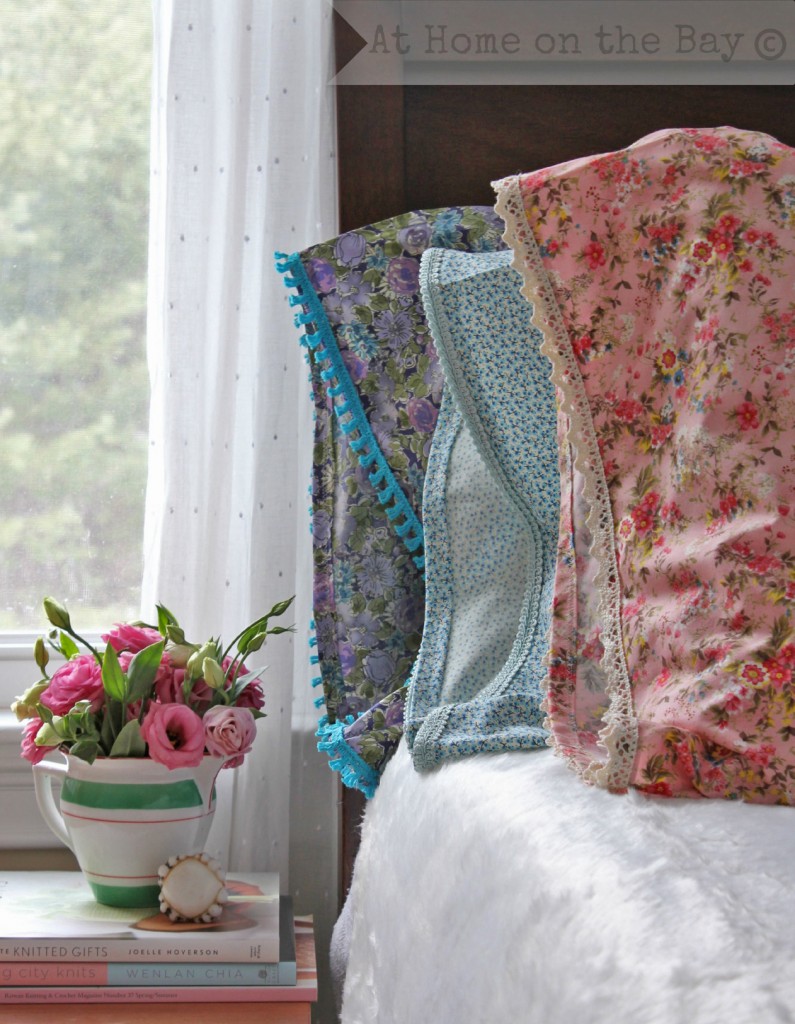 If you are looking for the most basic pillowcase ever – Melanie has got your back.
This reversible pillowcase can be worn inside out and still looks beautiful!  2 completely different looks in 1 case.  Tutorial here.
Here is a 3-in-1 pillowcase tutorial, from Ashley at Make it and Love it.  You can choose between basic style, same color cuff, or tri-color cuff.  Any way, these instructions won't lead you astray.
If you have a whole bunch of lovely fabrics, this is a great idea for mixing and matching and making a whole coordinated set for your home.  (By The Purl Bee).
My kids would adore this pillowcase with a pocket.  Great for sleepovers and traveling – by Just Another Hang Up.
The Seasoned Homemaker shows you how easy a pillowcase can be by using the "burrito method".  I've also heard it be called "hot dog method" or "magic method".  Whatever you call it, this is a beautiful pillowcase with french seams and a very finished look.
I love these road trip pillowcases from Amazing Mae.  Another one my kids would really get a kick out of.
If you have a thing for vintage, this sweet and simple pillowcase from Pleasant View Schoolhouse should do the trick.
Want something super duper quick?  This 2-step pillowcase, also from MADE, was meant for you.
Here is an adorable mini-pillowcase with a minky edge from Grandma's Chalkboard.  Another great-for-traveling pillow.
I can't get enough of these pleated pillowcases!  This pillowcase from Sew4Home is perfect if you want a pillowcase to make someone feel really special.
Here is great tutorial if you want to add decorative trim to the cuff – by sewmccool.
This pillowcase gorgeously hides the pillow inside and adds a tie.  So lovely!  Found on Craftsy.
If you are looking for something incredibly unique, this French Grain sack Pillow with grommets and ties is just right – and amazing.
If you are into re-purposing, turn your soft and worn treasured T-shirts into pillowcases.  Love this idea from My 3 Monsters.
If you are interested in sprucing up a store bought pillowcase, simply stitch some trim on the cuff and feel just as good as you would about making one from scratch.  Another great idea from At Home on the Bay.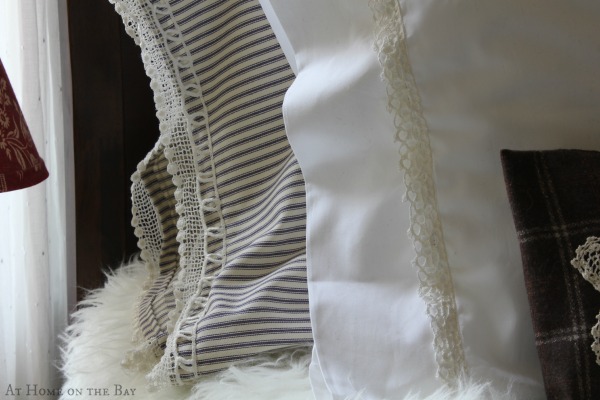 So many to choose from!
---
*This post contains affiliate links.  But rest assured, I never recommend a product I do not use and love!
**View my link party page, here.